Box Type Electric Resistance Furnace / Muffle Furnace
>> For laboratory or institutions
>> Be able to reach 1300℃ for high temperature type furnace
>> With high quality elema applicable to 1300℃ furnace
>> Intelligent digital display instrument, accurate temperature control
>> Fuselage corrosion resistance, beautiful, easy, and durable
Description
All resistance furnace of this series are batch type furnace. They are used for elemental analysis and quenching, annealing, tempering and normalizing heat treatment of general small steel parts in laboratory, industrial and mining enterprises, scientific research units. High temperature box resistance furnace with rated temperature of 1300 centigrade degrees can be used in high-temperature hearing for heating treat of alloy steel and agglomeration, melting and analysis of metals.
The furnace needs to be used with KSY type or zk-3 temperature controller and platinum rhodium - platinum thermocouple, to finish the measurement, indication and automatic control of electric furnace temperature.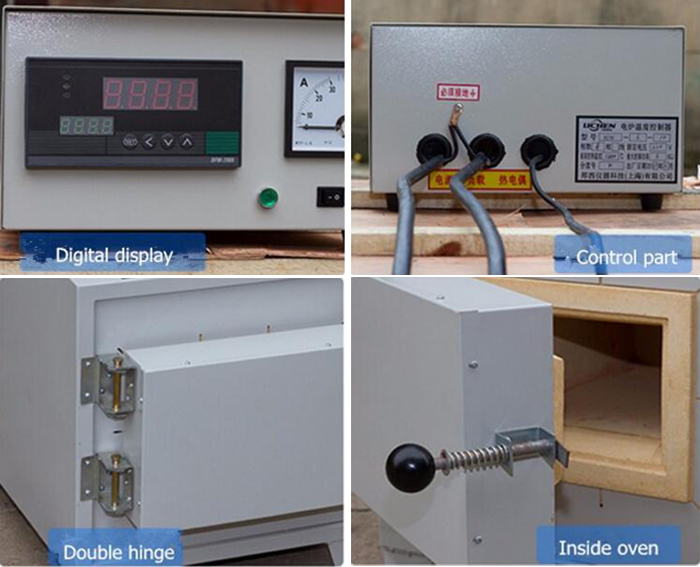 Structure
This series of resistance furnace shell is made of thin steel plate.The furnace is made of a box with a high alumina refractory material.The heating element - the silicon carbon rod is inserted inside the furnace, with a protective cover on both sides to ensure that the safe SX2-6/10-13 furnace bottom is equipped with detachable carbon silicon furnace bottom plate for easy maintenance and replacement.The lining of the furnace and the furnace shell are made of aluminum silicate fiber felt and high aluminum foam brick.
The door of furnace is fixed on the electric stove panel through the long arm of a multi-stage hinge.It turns flexibly.When closed, press or push the door hook, and the door can be pressed against the throat.When open, just move up or slightly handle, decoupling, place the furnace door on the side.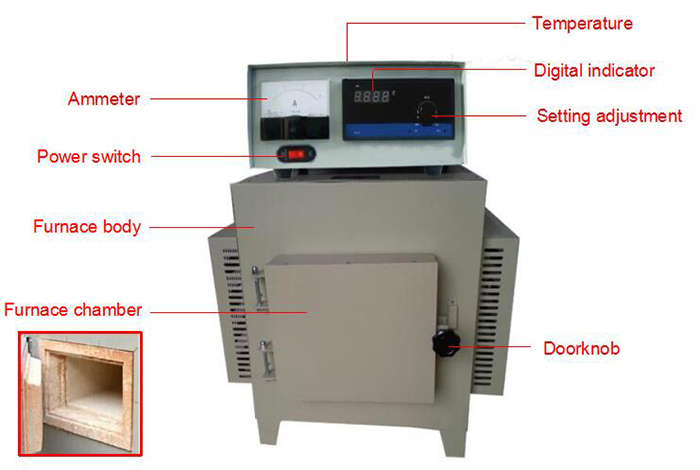 Technical Specifications
Model

Power

(kw)

Voltage

(V)

Rated temperature (℃)

Hearth size

(mm)

Dimension (mm)

Weight

(kg)

SRJX2-9

2

220

950

250*100*75

580*406*480

50

SRJX3-9

3

220

275*150*100

710*460*535

65

SRJX4-9

4

220

325*200*125

705*460*535

70

SRJX12-9

12

380

500*300*200

940*650*730

180

SRJX4-13

4

220

1300

250*150*100

600*500*500

55

SRJX8-13

8

380

500*200*180

800*600*550

280

SX2-2.5-10

2.5

220

1000

200*120*80

625*445*530

45

SX2-4-10

4

220

300*200*120

735*495*480

53

SX2-8-10

8

220/380

400*250*160

930*580*625

115

SX2-12-10

12

220/380

500*300*200

940*650*730

180

SX2-2.5-12

2.5

220

1200

200*120*80

625*445*530

35

SX2-5-12

5

220

300*200*120

630*495*500

55

SX2-10-12

10

380

400*250*160

930*500*625

115

SX2-6-13

6

380

1300

250*150*100

625*604*600

90

SX2-4-13A

6

220

250*150*100

625*604*600

90

SX2-10-13

10

380

400*200*160

762*660*675

135
Contact Us
Name: Sabrina Huang




Skype: sabrina88196




Tel: 0086-15879777833




Email: jinshibaosabrina@shakingtable.com.cn