Screw Conveyor
>> The large bearing capacity, safe and reliable.
>>  Strong adaptability, easy installation and maintenance, long service life.
>>  The machine is small in size, high speed, ensure rapid delivery uniformity.
>> The discharge end is equipped with cleaning device, low noise, strong adaptability, in and out of the mouth position arranged flexibly.
>>  
Good sealing
, shell made of seamless steel tube end use flange connection each other as a body, good rigidity.
Description
Screw conveyors are divided into two types: shafted screw conveyors and shaftless screw conveyors. In terms of appearance, they are divided into U-shaped screw conveyors and tubular screw conveyors. The shaft screw conveyor is suitable for non-viscous dry powder materials and small granular materials. (For example: cement, fly ash, lime, grain, etc.) and the shaftless screw conveyor is suitable for conveying viscous and easily entangled materials.
Structure
The screw conveyor is generally composed of three parts: the conveyor body, the inlet and outlet and the driving device; the screw blade of the screw conveyor has three forms: solid helical surface, belt helical surface and blade helical surface. Relatively few, it is mainly used for conveying materials with high viscosity and compressibility. This kind of screw suspension type has the functions of stirring and mixing materials at the same time in the process of completing the conveying operation.
Working principle
When the screw shaft rotates, the material can only move forward along the groove bottom of the conveyor under the push of the blade due to the gravity of the material and the frictional force generated by the wall of the groove body. It is the same as the translational motion of the rotating screw. The movement of the material in the intermediate bearing depends on the thrust of the material advancing behind it. Therefore, the transportation of materials in the conveyor is completely a sliding movement. In order to make the screw shaft in a more favorable tension state, the drive device and the discharge port are generally placed at the same end of the conveyor, and the feed port is placed as close as possible to the tail of the other end. The rotating screw blade pushes the material for conveying, and the force that prevents the material from rotating with the screw conveyor blade is the weight of the material itself and the frictional resistance of the screw conveyor casing to the material.

Technical specification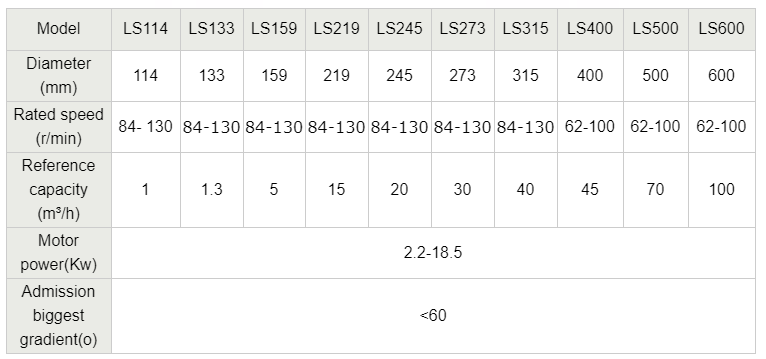 More Photos