Rotary spiral chute
>> The rotary spiral chute is a new type of technology-improved power-type mineral processing equipment. 
>>  It is equipped with the vibration force of the rotating centrifugal force and its own vibration motor, and the speed and amplitude are adjustable. 
Description
The rotary spiral chute is suitable for iron ore, ilmenite, chromite, pyrite, tungsten, tin, tantalum, gold placer, zircon, rutile, monazite, ethidite and other non-ferrous metals with specific gravity differences Metals, rare metals and non-metallic minerals. It can also be used for tailings pond re-selection and disposal of a large number of discarded tailings.
The rotary spiral chute can make it customized by customer's request , to effect the capacity of spiral chute , that according to installing the starts of spirals .

Features
The new type of rotary spiral chute has a new type of technical improvement with power type, plus the vibration force of the rotating centrifugal force self-vibration motor, the speed is adjustable, the amplitude is adjustable, the beneficiation is stable, the ore separation is clear, the processing capacity is large, and the efficiency is high. , strong adaptability to fluctuations in particle size and grade, simple installation, small footprint, easy operation, moisture-proof, rust-proof, corrosion-resistant, especially suitable for placer mining on the seashore, riverside, sand beach.

Specification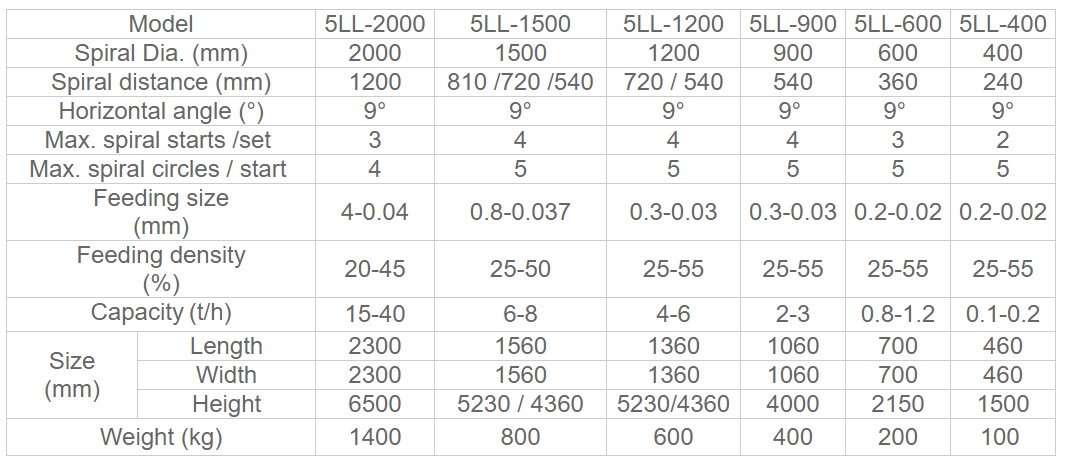 Application