SJ Leaching Tank
>> Double impeller leaching tank
>> Impellers are steel plate encapsulated with rubber
>> Larger volume and lower power consumption
>> The input air through the hollow shaft improves the leaching efficiency
Description
SJ series double-impeller leaching tank is mainly used in cyanide leaching of gold producing and sewage treatment of cyanide factories. It is also used in metallurgy, chemical industry and light industry. In carbon slurry process and cyanide process, the leaching tank should be used together with carbon screen, carbon pulp and other auxiliary equipment.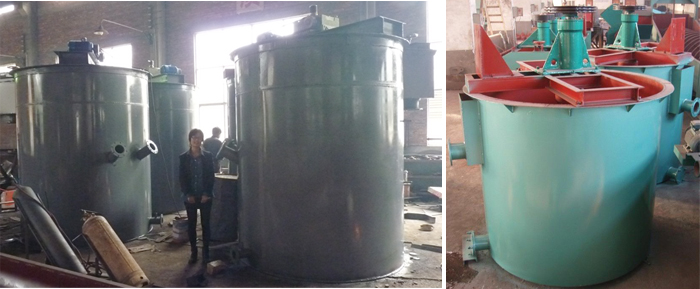 This equipment working conditions: pulp concentration ≤ 45%, pulp concentration ≤ 1.4 t / m.
Structure
1. Discharging valve 2. Transmission 3. Reducer system 4. Impeller shaft 5. Impeller 6. Tank body 7. Discharging outlet
Working Principle
Double impeller leaching tank equipped with motor, cycloidal planetary gear speed reducer, bearing block and agitating shaft, is characterized by compact structure, little occupied space, and the agitating shaft equipped with a double impeller , from the top view the impeller rotating clockwise, each impeller composed of 4 blades, and the angle of the top blade and the below one is 45 degree. The compact air gets through the elbow pipe or the hollow shaft to the tank's bottom, the raising air plays the role of mixing , at the same time the big bubble shattered by the impeller changing into small bubbles, in the end the pulp and air reaches fully mixing and sodium cyanide solution contacts with the pulp completely, thereby gets the better gold leaching result. The design of this device keeps the impeller low-speed moving, reducing the possibility of wearing or smashing the active carbon, so as to achieve high leaching rate, high absorption rate and collects more gold.


Technical Specification
Model

Tank dimension

(m)

Effective volume

(m³)

Impeller rotation

speed (rpm)

Pulp density

(%)

Power

(kw)

Weight

(t)

SJ1.5*1.5

¢1.5*1.5

2.25

28

<45

1.5

2.21

SJ2*2

¢2*2

6

72

<45

2.2

2.80

SJ2.5*3.15

¢2.5*3.15

13

57

<45

2.2

3.37

SJ3*3.15

¢3*3.15

19

43

<45

4

5.63

SJ3*3.5

¢3*3.5

23

43

<45

4

5.60

SJ3.15*3.55

¢3.15*3.55

21

40.85

<45

4

5.80

SJ3.5*3.5

¢3.5*3.5

30

52

<45

5.5

5.70

SJ3.5*4

¢3.5*4

34

36.3

<45

4

6.65

SJ4*4

¢4*4

48

45.71

<45

5.5

7.34
Application

Contact Us
Name: Sabrina Huang




Skype: sabrina88196




Tel: 0086-15879777833




Email: jinshibaosabrina@shakingtable.com.cn