Hammer Mill
>> Simple structure
>> High reduction ration
>> Easy operation and maintenance
>> Low investment
>> High manganese or high chrome hammers for option
>> Suitable for small scale grinding
Description
Crushing by the collisions between high-speed hammers and materials, the hammer mill were developed for both dry and wet crushing of brittle, medium-hard materials for the mining, cement, coal, metallurgic, construction material, road building, and petroleum & chemical industries.





The hammer mill can be equipped with motor engine or diesel engine as per requirement.








Structure
The hammer mill is mainly consist of frame, rotor, hammers, and other parts: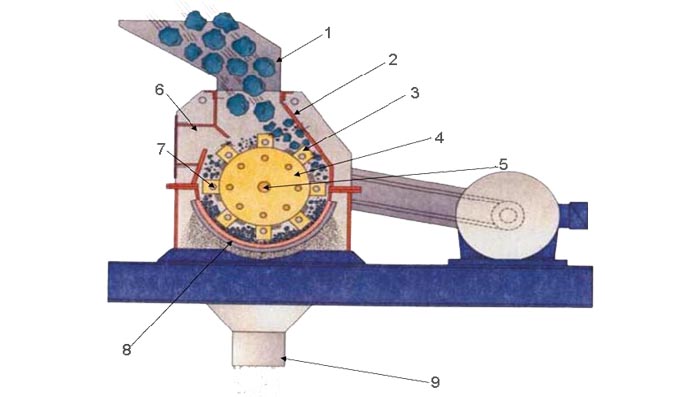 1. Feeding chute 2. Impact plate 3. Hammer 4. Rotor disc 5. Shaft 6. Metal trap
7. Hammer rod 8. Screen 9. Discharging port
Working Principle
1. Material is fed into the mill's chamber typically by gravity.
2. The material is struck by ganged hammers which are attached to a shaft which rotates at a high speed inside the chamber. The materials are crushed or shattered by the repeated hammer impacts, collisions with the walls of the grinding chamber as well as particle on particle impacts.
3. Perforated metal screens, or bar grates covering the discharge opening of the mill retaining coarse materials for further grinding while allowing qualified sized materials to pass through as finished product.
Technical Specification
a
Contact Us



Name: Sabrina Huang




Skype: sabrina88196




Tel: 0086-15879777833




Email: jinshibaosabrina@shakingtable.com.cn