YA Circular Vibrating Screen
>> Ring groove rivets connection, plate type screen box
>> Advanced structure, strong and durable

>> Vibration exciter with eccentric shaft and eccentric block
>> High screening efficiency
>> Large capacity
Description
YA circular vibrating screen is applied in quarry for screening sandstone or for product classification of coal, mine, construction materials, electric power and chemical industry.

Circular vibrating screen earns this name by reason of its approximately circular movement. It is of multilayer and high efficiency. The eccentric shaft vibration exciter and partial block help to adjust amplitude. This kind of screen is of long streamline, many specifications and clear screening for different specifications.
Structure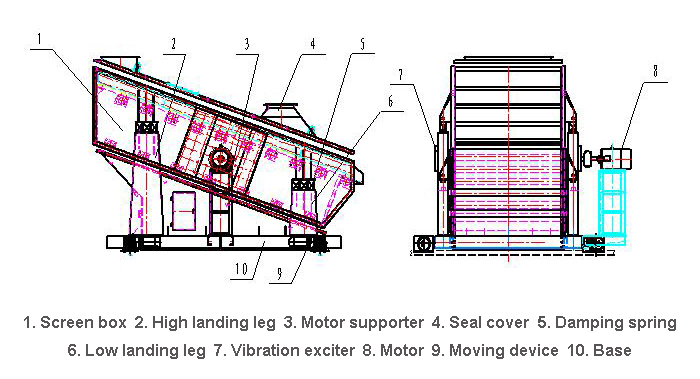 Working Principle
It uses eccentric block to produce strong exciting force. Crossbeam and the main body of the screen are connected with high strength screw bolts. So they have the features of simple structure and easy maintenance. It adopts tire clutch with capability of flexible connection and stable operation. It adopts the structure of small amplitude, high frequency, large obliquity to make the screen hold the capability of high efficiency, large handling capacity, long life span, low consumption, little noise.
Technical Specification
There are single layer, double layer, three layers, four layers types of vibrating screen which can be customerized manufactured.
Application
Contact Us
Name: Sabrina Huang




Skype: sabrina88196




Tel: 0086-15879777833




Email: jinshibaosabrina@shakingtable.com.cn