Trapezoidal Jig
>> Simple operation and maintenance.
>> Water-recycling, High recovery, big capacity.
>> Energy-saving, high efficient, environmentally friendly.
>> Four jigging beneficiation slots, adjustable stroke, wide range of particle size.
Description
Trapezoidal jig has independent slots with its trapeziodal working sector, each slot can be adjusted independently.
According to the diaphragm movement and the ore flow vertical movement, it is called lateral side moving diaphragm jig; according to jigging chamber surface shape is also called the trapezoidal jig.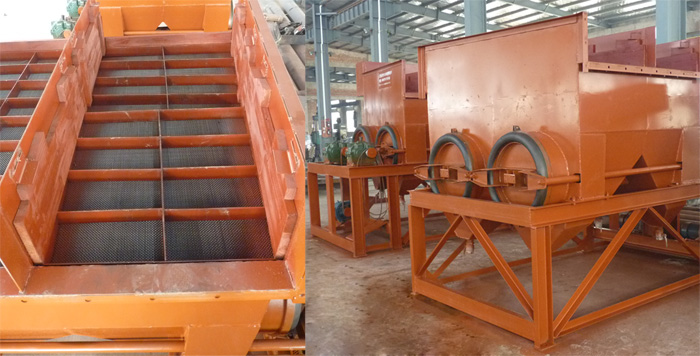 Structure
The trapezoidal jig is composed of 8 jigging chambers, divided into two columns, each column 4 rooms, each room of the stroke speed
can be adjusted separately; 2 columns of the jig 1-4 rooms and 5-8 room with disconnecting device in the middle.
1.Feed launder 2. Counter-shaft 3.Screen plate 4.Frame 5.Diaphragm 6.Drive device
Working Principle
Trapezoidal jig cross section is trapezoidal, ore along the flow direction change from narrow to wide, slurry flow speed to be slow down in gradually, especially for fine grained heavy mineral to recovery. It takes advantage of water as medium, and separates according to density difference.

Technical Specification
Application
Trapezoidal jig is widely applied on the separation of gold, tin, tungsten, titanium, hematite, coal and other minerals.
And also used in the beneficiation of metals/ non-metals like limonite, specularite, manganese, antimony, fluorite, barite, celestite and so on.

Contact Us


Name: Helen Huang

Skype: sabrina88196

Tel: 0086-15879777833

Email: helen@perrymining.com