GT series Trommel Screen
>> Both stationary and mobile type available
>> Both diesel engine and motor engine available
>> High screening efficiency
>> Low power consumption
>> Suitable for washing and screening various kinds of minerals, sands, and other materials
Description
Representing a new generation of sieving equipment, the trommel screen has effectively overcome the blocking problems of the circular and linear vibrating screen when screening the wet materials, which has improved the productivity and reliability of the whole screening process.
There are various kinds of trommel screen available:
>> Stationary type, mobile type
>> Small scale type, large scale type
>> Motor engine type, diesel engine type
>> Single layer type, double layer type
Structure
The trommel screen is consist of mainly 6 parts which are cylinder, main frame, discharging devices, reducer, electric motor / diesel engine, and flushing water device.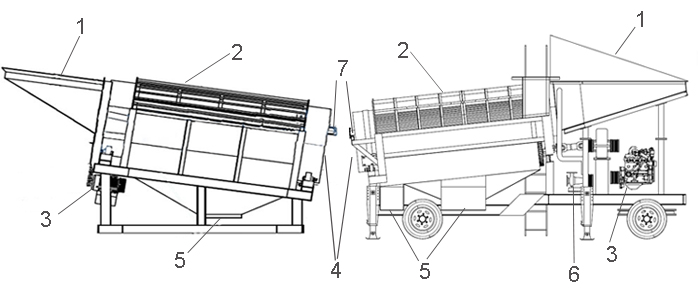 1. Feeding chute 2. Screen trommel 3. Motor/Diesel engine 4. Uppersize discharging outlet
5. Bottomsize discharging outlet 6. Water pump 7. Flushing water pipe
Working Principle
By using the mechanical design, GT trommel screen provides the efficient screening area by placing a number of grating bars side by side in which way the screening holes are formed.
The screening is completed using the materials' self-weight while rotating. The three coupling shafts are designed higher than the screening surface, which enables the larger particles being stirred up and thus increases the screening efficiency. The particles larger than screen mesh size are discharged as the uppersize materials which could be delivered away by belt conveyor, while the particles smaller than screen mesh are discharged as undersize materials which could be fed into the following equipment.
Technical Specification
Application
Welcome to contact us for more details!
Name: Sabrina Huang




Skype: sabrina88196




Tel: 0086-15879777833




Email: jinshibaosabrina@shakingtable.com.cn