Belt Feeder
>> A mining feeder that can withstand high pressure and is used as mining equipment
>> Low power consumption and easy operation
>> Easy installation and large conveying capacity
>>  Low noise
Description
Belt feeder can be widely used in metallurgy, mineral processing, building materials, water and electricity and other departments. It can be used to transport various bulk and granular bulk materials with a bulk density of 0.5~2.5t/. According to the requirements of the conveying process, it can be conveyed by a single unit, or by multiple units or with other conveying equipment to form a horizontal or inclined conveying system to meet the needs of different layout types of operation lines.

Advantages
The speed regulating motor is adopted to adjust the feeding amount by changing the belt speed. There are two ways to adjust the production capacity of the belt feeder: one is to adjust the speed of the AC speed regulating motor, and the other is to adjust the insertion depth of the adjusting gate installed on the feeding hopper

Working principle

The material is fed to the belt surface of the belt feeder through the feeding hopper. With the rotation of the AC speed regulating motor, the belt moves forward slowly, and the material on the belt surface is fed into the next process through the first wheel to realize continuous feeding.
Technical Specification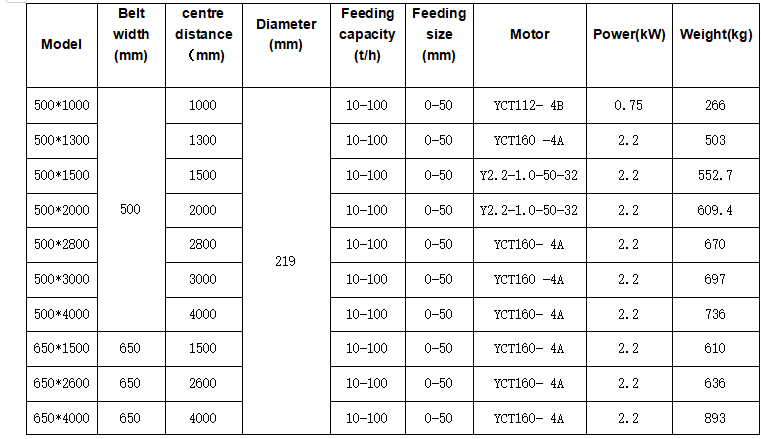 Application