PC Hammer Crusher
>> Hammer headwork adopt new technology casting, with wear and impact resistance

>> Adjusting grain size to meet customers' need

>> Seal body structure solved the problems of crushing plant dust pollution and gray body leakage

>> The overall design has attractive appearance, compact structure, less easy damaged parts, easy maintainance. The products are upgraded.
Description
Hammer crusher is a crushing equipment which utilizes impact energy to crush materials .
As a primary crusher, the hammer crusher could crush materials directly from maximum 600-1800mm to 25mm and below. It is suitable for crushing all materials of brittle, medium hardness, and compressive strength less than 150Mpa. So the hammer crusher is applicable to crush medium hardness materials in industries of beneficiation, cement, chemical, metallurgy, and so on, such as the secondary and fine crushing of limestone, coal, etc.

This equipment can be adjusted to reach various discharged granularity as the customers' requests.
Structure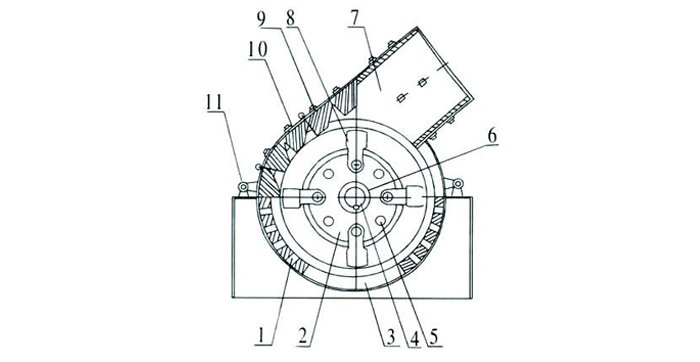 1. Grate screen 2. Rotor disc 3. Discharge port 4. Center shaft 5. Supporting rod 6. Supporting ring
7. Feeding port 8. Hammer 9. Impact plate 10. Arc lining plate 11. Connector
Working Principle
Hammer crusher mainly consists of frame, rotor, trapezoidal iron plate, bar grate, etc. And the frame consists of the upper part and the lower part. The rotor consists of main shaft, disk,hinge pin and hammers .The bar grate is below the rotor.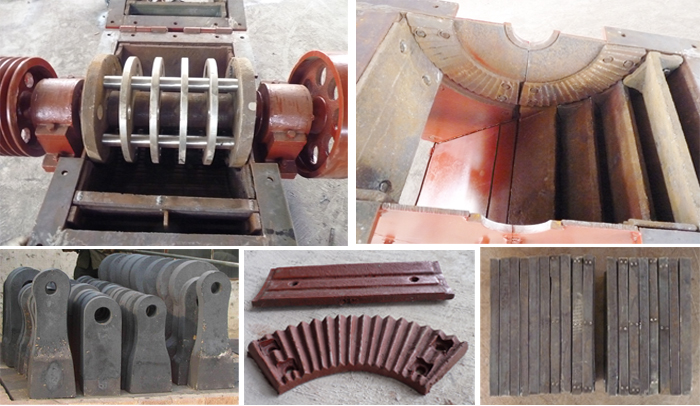 The motor drives the rotor to rotate at a high speed. When the materials get into the crushing cavity, they are crushed by the rotating hammers, the crushed products which meet the required size can be discharged from the bar grate and become the final products, the products in larger size are brought back for re-crushing until they reach the required size.
Technical Specification
Application

Contact Us



Name: Sabrina Huang




Skype: sabrina88196




Tel: 0086-15879777833




Email: jinshibaosabrina@shakingtable.com.cn