6S Shaking Table
>>High concentration ratio 
>>Easy installation 
>>Simple operation
>>Deck constructed of fiber glass
>> Long working life 
>> Adjustable stroke length and speed
Description
6S shaking table is a kind of gravity concentration equipment. It is characterized for its asymmetric reciprocating movement system.
The shaking table can be applied to separate not only ferrous, non-ferrous, rare and precious metals such as the gold, tungsten, tin, tantalum,
iron, manganese, chrome, titanium, bismuth, lead, ranging from 2-0.037mm, but also pyrite ore ranging from 4-0.037mm.


Structure
Working Principle
The 6S shaking table is mainly consist of the transmission device, ore feeding chute, water feeding chute, deck, and the slope adjuster.
The minerals are separated according to the different specific gravity and particle sizes under the comprehensive action of the minerals' specific gravity, then finally are discharged as concentrates, middlings, and tailing.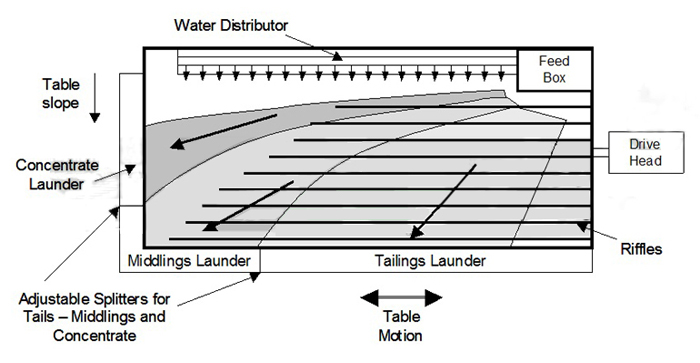 Support
1.Ordinary foundation

1)Need the cement to bury the foot bolt

2)Most cost saving, stable to keep fixed separation




2. 10# Channel steel support

1) Material: 10# channel steel

2) Cost saving

Don't need the cement to bury the foot bolt

Quick to install & work

Easy to disassemble & move

3.28# Channel steel support

1) Material" 28# channel steel

2) Good effect same as the ordinary support

Don't need the cement to bury the foot bolt

Quick to install & work

Easy to disassemble & move

Suitable for the uneven surface


Deck
According to different separation particle sizes, there are different deck-grooves for option as below:
Technical specification
Application