FG Spiral Classifier
>> Energy saving
>> Heavy duty, rugged construction
>> Continuous spiral raking
>> Powerful self-contained spiral lifting device
>> Adjustable weirs
>> Sealed, submerged bearing
>> Optional automatic lubrication system
>> Rigid tank and substructure
>> Wide choice of tank design
>> Overflow collection box
>> Wide range of industries serviced
Description
FG spiral classifier is the most commonly used classifying equipment nowadays. It classifies the minerals by taking advantage of the different settling velocity of mineral particles with different size, shape, and density. The spiral classifier is mainly applied in the grinding circuit as pre-classification and check classification. It could also be used in ore washing, de-mudding, and dewatering.
There are several types available:
>> Single spiral, double spiral type
>> High weir, Immersed type
>> Standard type, Extended type

Structure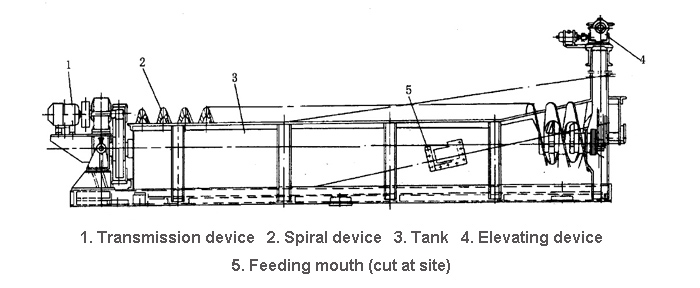 Working Principle
The grinded pulp is fed into tank from the inlet in the middle of settlement region, and the slurry classification sedimentation area is under the inclined tank. The spiral with low speed rotation stirs the slurry, so that the fine particles rise and overflow, while the coarse particles sink to the bottom of tank and are pushed upward by the spiral.


Technical Specification
Welcome to contact for more information!



Name: Sabrina Huang




Skype: sabrina88196




Tel: 0086-15879777833




Email: jinshibaosabrina@shakingtable.com.cn