ZSW Vibrating Feeder
>> Stable operation, reliable work, long service life, easy installation, convinient maintainance and easy automatic control;
>> Adopt double-shaft vibrator and liner vibratior to finish the feeding and screening process at the same time;
>> Continuously and evenly feeding for rough crusher to proceed the coarse screening;
>>Can install the variable-frequency and variable-speed motor to regulate frequency, change the production, and control the feed quantity easily without starting frequently;
Description
ZSW series vibrating feeder is mainly used for continuous and uniform feeding in front of coarse crusher, and can screen fine material at the same time to increase the capacity of the crusher. The machine adopts the structural characteristics of double eccentric vibration exciter, so that the equipment can withstand the impact of falling bulk materials, and the feeding capacity is large. In the production process, the block and granular materials can be sent from the storage silo to the receiving device evenly, regularly and continuously, so as to prevent the receiving device from crashing due to uneven feeding, and prolong the operation of the equipment service life.
The feeder can be divided into a steel plate structure and a grate structure. The steel plate structure feeder is mostly used in the sand production line to send all the materials into the crushing equipment evenly; the grate structure feeder can coarsely screen the materials. To make the system more economical and reasonable in preparation, it has been used as an essential equipment in crushing and screening. Therefore, the machine is widely used in crushing and screening combined equipment in metallurgy, coal mine, mineral processing, building materials, chemical industry, abrasives and other industries.
Working principle
ZSW series vibrating feeder is composed of feeding trough, vibration exciter, spring support, transmission device and so on. The vibration source of the vibrating feeding of the tank body is the vibration exciter. The vibration exciter is composed of two eccentric shafts (main and passive) and a gear pair. The motor drives the driving shaft through the V-belt, and then the gear on the driving shaft meshes with the passive shaft. Rotation, the main shaft and the passive shaft rotate in the opposite direction at the same time, and the tank body vibrates, so that the material flows continuously and achieves the purpose of conveying the material.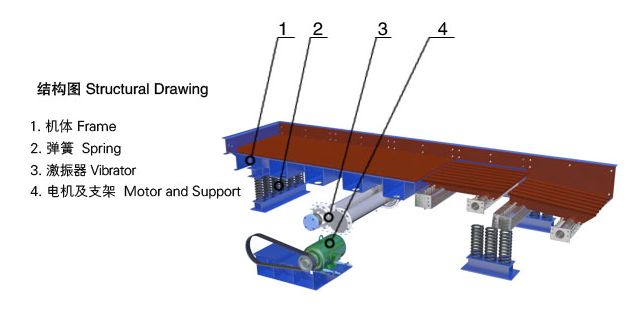 Technical Specification

Application