XJK Flotation Machine
>>Large air-absorption capacity
>>Low energy consumption
>>Less reagents consumption
>>Easy to maintenance and can be designed according to the users.
>>The impeller has backward-inclined upper and lower vanes.
Description
Flotation machine is widely used for roughing, concentrating and recovering flotation of nonferrous metals that include copper, lead, zinc, nickel and molybdenum, ferrous metal. It can also be used for separating nonmetallic minerals. like coal and fluorite.
XJK series of flotation machine can effectively make the low-grade ores become high-grade concentrates, especially for disseminated, complex ores.
Structure
XJK series of Flotation machine consists of flotation cells, impeller, belt pulley, inlet pipe, strobe, covering plate, standpipe, draw bar, etc.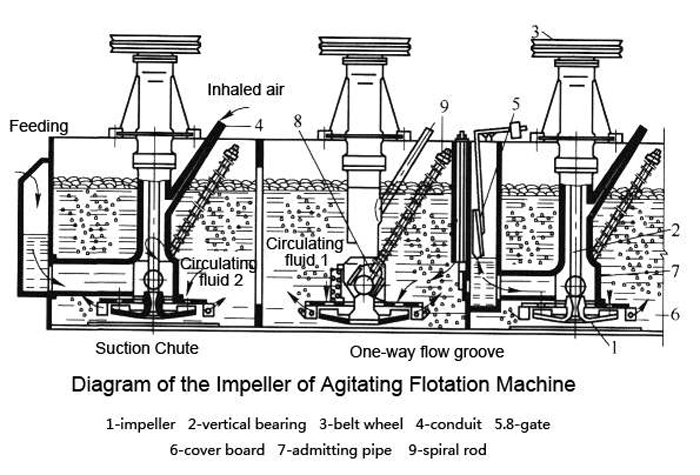 Working Principle
The impeller is rotated by V-belt of motor and producesnegative pressure by centrifugal function.
Enough air is sucked to mix slurry, and slurry mixes drug at the same time. Mineral sticks on bubble completely and floats on the surface of slurry to form mineralized bubble. Useful bubble is scraped out by adjusting flashboard height and controlling liquid surface.
Technical Specification
Application
Contact Us


Name: Helen Huang

Skype: sabrina88196

Tel: 0086-15879777833

Email: helen@perrymining.com