Thickener
>> The equipment with simple structure, easy operation, convenient installation, large capacity 
>>  It works with stable , without power,lower people to do
>>  Lowest investment, without any quick wear parts
>>  Higher recovery for classifier and dehydration ,overflow of water is not muddy
>> This machine is new style environmental protection equipment.
Description

of thickener
Mine Thickener fits for dehydration of the concentrate and gangue in beneficiation production line; it is widely used in metallurgy, chemical industry, coal,nonmetal beneficiation and environmental protection.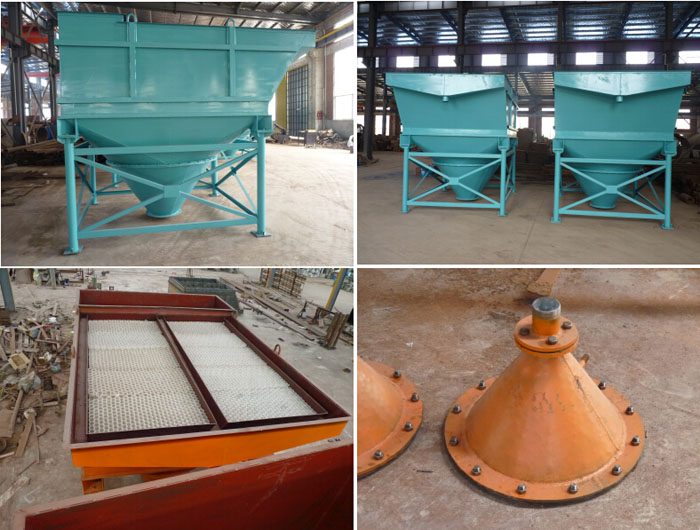 Working Principle
of thickener
MY series thickener high efficiency dense machine: using the difference between mineral particle size and specific gravity (density), Which do not match on the settling velocity of the flow to achieve classification, dewatering, de-sliming. Ore pulp goes into the pulp through a pipe or a pump thickener into the feeding mouth, the thick machine feeding speed turns sharply from low to high,under the action of making pulp is not in the other power to form a downward force. After entering concentration area, pulp can be in the form the relatively dynamic balanced suspension process, slurry particle size in the larger particles, due to its larger settling velocity , in overcoming current pulse power, after settling concentration and then through the filter screen layer, thus the rapid precipitation goes to the bottom, and then through the bottom of the discharging mouth eduction.according to certain Angle the oblique district populate the hexagonal thin porous inclined tube.
Technical Specification
of thickener
| | | | |
| --- | --- | --- | --- |
| Model | Pulp concentrate(PD/H) | Pulp water recovery(PD/H) | Dimension (mm) |
| MY-5M2 | 300-800t/h | 500-1000t/h | 580*2350*3500 |
| MY-10M2 | 500-1500t/h | 1000-1500t/h | 7160*2350*3500 |
Application
of thickener
Energy efficient inclined tube type thickener is a new type of equipment of high efficiency, high energy saving and classification. The equipment is mainly composed of classifying hopper, inclined tube feeding area, the overflow mouth, sorting, etc.




Name: Helen Huang




Skype: sabrina88196




Tel: 0086-15879777833




Email: helen@perrymining.com